Apologies for the pics - some are less than 100% brilliant.
The most common reason for having to change the pump is the failure of the seals around the shaft, leading to water dripping through the drain onto the aircon pump (if fitted) or straight onto the ground. The good news is that the failure is usually progressive, rarely catastrophic and it's an easy component to change.
The T series water pump is a superb piece of design - it's attached to the back of the PAS pump and can be changed without having to release the drivebelt and can usually be done in under an hour. The only problems are likely to be a lack of access due to the exhaust manifold/aircon pipework (not too bad) and the tendency to for the securing bolts to seize up. With that in mind, soaking the bolts with penetrating oil for a few days in advance will help, as will using a 1/4" drive socket set, several extension bars and hexagon sockets for a nice tight grip.
The picture below shows the pump outlet with radiator hose attached. This plate sandwiches the pump against its mounting and the bolts go through the outlet and pump into the mounting.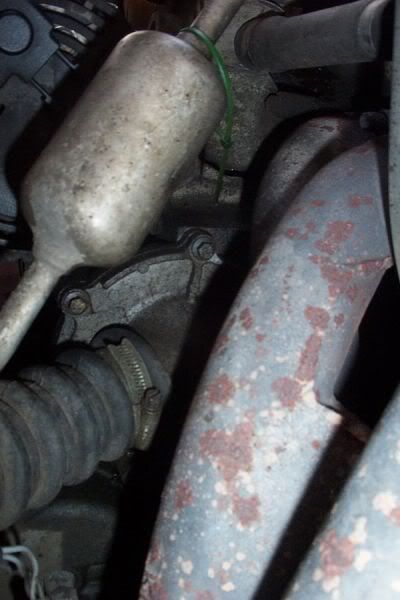 The first thing I did was jack up the car and position a bucket underneath to catch the escaping coolant (so that I can reuse it as the anti-freeze is fresh). The I undid the clip on the hose from the pump outlet and release the hose.