The PG1 and PG2 gearboxes suffer from a wobbly gear linkage, which was making the gearchange rather vague.
I've seen people replace the universal joint with one from the steering column of various Rover group cars (a very popular mod on Rovertech), but I reckon that many of them are missing the real culprit - wear around the hole in the UJ where the roll pin goes through to secure the linkage to the selector rod.
Here's the UJ in question. It's secured to the gearbox selector rod by a roll pin that has to be driven out. The roll pin is usually stuck fast and VERY hard to shift!
The problem lies in wear in the holes which have this rod through it - mine were worn enough to allow 10 degrees of rotation before the gear selector rod in the gearbox actually moved! The actual UJ was nice and tight - despite 104,000 miles and nearly 19 years.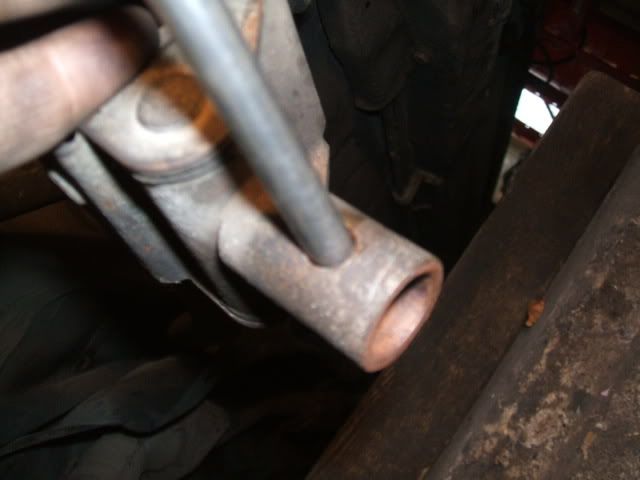 To fix this you can weld on a new UJ (stuff that!), weld up the holes and re-drill (awkward) or replace with a bolt and clamp it down tight (much easier). For this last option I cut a slot through both sides of the sleeve on the linkage:
I then shaped a couple of washers to fit the sleeve and put a 5/16" high tensile bolt (about 1 1/4" long) through the sleeve and selector rod. Once tightened up with a nylock nut, the sleeve compresses onto the selector rod and grips it tight (this is why the slot was cut in the sleeve).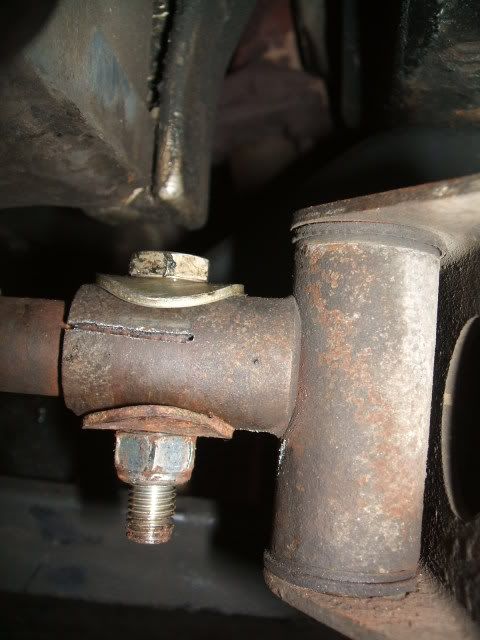 The result is amazing - nice, tight and more importantly accurate gearchange. All for the sake of about an hour under the car.